Who hasn't thought about casters? Hmmm, that sounds like crickets chirping. Believe it or not, casters are definitely thought worthy. Casters are a great way to add convenience to any room. For instance, casters can be used to make a small living space more functional. Here are 15 uses for casters in any home.
Kitchen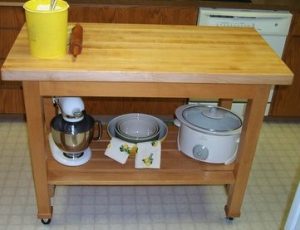 1. Garbage Can - Add casters to the garbage can to make it portable. Roll the garbage can out of the way when carrying in groceries or sweeping. Move it closer when cleaning out the refrigerator the week after Thanksgiving.
2. Recycle Bin - Having a separate bin for recycling is a great and easy way to go green in the kitchen. To make this second receptacle more convenient, install casters.
3. Butcher's Block/Island - Extra counter space and storage certainly come in handy in the kitchen. Especially around the holidays. Purchasing a butcher's block or island is an easy way to accomplish that, and its more affordable than knocking down walls and expending the kitchen. Add casters to the butcher's block or island so it can be moved to an out-of-the-way nook when not in use.
Dining Room
4. Dining Room Table - For avid entertainers, those with small living quarters, or both, adding casters to a dining room table can be the perfect solution to a crowded space. Adding casters allows the table to be moved out of the way when inconvenient.
5. Dining Room Chairs - Adding casters to dining room chairs is an easy way to gain additional seating for other rooms of the house (ex. living room). With casters, chairs can simply be rolled wherever they need to go.
Living Room
6. Coffee Table - Install casters on the coffee table to make it easier to move when cleaning. Furthermore, if overnight sofa-bed crashers are a regular occurrence, having a coffee table that's easy to move will surely come in handy.
7. Ottoman - An ottoman can be a comfortable extra seating option in the living room when company is over; however, who wants to sit in the middle of the room? Add caster so the ottoman can easily be moved to one side.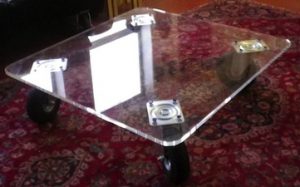 8. Couch - Clean freak? Add casters to the couch to make vacuuming underneath a breeze. In addition, having casters (assuming they're the correct kind) can protect hardwood floors from scuffs and scratches when rearranging furniture.
9. End Tables - Believe it or not, end tables are not regulated by law to sit at either end of a sofa or love seat. They can migrate around the house to serve as a night stand, entryway table for keys or mail, or be pushed together in front of the sofa to form a makeshift coffee table. Make that migration easier by installing casters.
10. TV Stand/Entertainment Center - Unfortunately, not all rooms are perfectly shaped. Awkward shaped rooms often lead to awkward seating arrangements where the television can not be viewed by everyone equally well. Small TV stands or entertainment centers are great candidates for casters. Add casters so that the television can be adjusted to better everyone's viewing experience.
Bedroom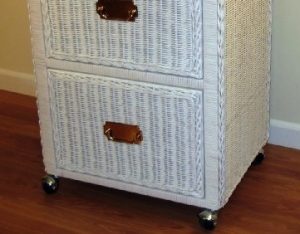 11. Bed - Need some extra storage space? Installing casters on a bed not only makes it mobile but also adds a little extra hight to the frame. Extra height means more storage underneath. Consider decorative crates, boxes, or bins if stored items will be visible beneath the bed to keep things looking organized and clean.
Office
12. Office Chair - Most office chairs come standard with casters to make moving around the office easier whether its filing important papers, answering the phone, or entering data on the computer.
13. Desk - If the office is in the bedroom (or another room that's pulling double duty) and cords aren't a big issue (ex. laptop) consider adding casters to the desk. That way, at the end of the work day, the desk can be rolled to a discrete nook or cranny where its out of the way.
14. File Cabinet - Add casters to a file cabinet so it can be pulled up to the desk when massive filling needs to be done or multiple files will be needed for a task. If a task requires spreading out, the file cabinet can be easily moved to another room where more space is available (ex. dinning room table).
15. Printer Cart - In a small space, when not in use, a printer can be pushed aside; however, when needed, casters allow a printer to be pulled within easy reach of the desk.
Bonus
Laundry Hamper - Add casters to a laundry hamper to make gathering dirty laundry from multiple rooms or putting laundry away a little less of a chore.
Casters can be used to make anything mobile. Don't worry about everything rolling around the house all willy-nilly because many casters come equipped with a locking feature which will keep any piece of furniture right where it's supposed to be. Casters are a great way to add convenience and functionality to any space - big or small. Don't think of casters as utilitarian tools but as fashionable accessories because when bought
Photo Credits
In order of appearance